Description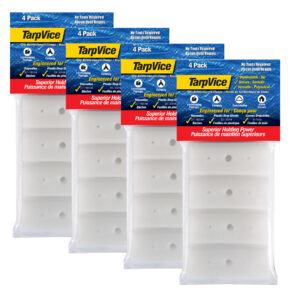 TarpVice Quad Pack 16 clamps, is great for larger tarps needing 16 support locations to resist minor to larger wind lift.  Replaces common grommets and provides support locations were you need them most.  Unlike standard tarp clips, this revolutionary design has a 4″ wide grip area. This feature greatly improves the tarps ability to resist tearing or ripping under load. TarpVice Quad Pack is a multiple jobs showing you how well it does work and how versatile this product is for you, besides once you use TarpVice you will quickly see how you need more.
This is not you common tarp clip.  TarpVice does so much more because it's 2 piece construction snaps onto any soft textile less than 10 mil thick. TarpVice easily removes for re-use in any location.  It is also ideal for securing tarps together allowing you to make any length you want.  With the addition of Quad Packs (16 clamps), TarpVice can create large continuous panels to protect against wind or rain.  This makes for quick covers perfect for damaged roofs waiting for repairs.
TarpVice is and industrial product that is available to the home owner as well.  For the professionals, you can purchase TarpVice in Single Box and Double box orders, that 48 and 96 clamps.  This offers a savings of 15% – 25% of retail.  Each 4-pack will be fully labelled with instructions so that distribution to your work crews will always have information on how to install TarVice clamps.
We are also offering 30% savings to large quantity orders of over 200 clamps or more which is ideal for golf course maintenance and seasonal covering.  These orders will come in boxes of 67 loose clamps with 1 instruction sheet per box for reference. All quantity orders over 200 clamps are purchased by email only.